You can check Anna University Part Time Semester Exam Time Table for UG November/December 2012 Exam. Anna University Chennai published Part Time courses time table in its official website. Candidates who are appearing for this exam can check your exam dates.
To check Anna University Affiliated Colleges University exam November/ December 2012 Time table for UG PartTime Programmes students can go through the following steps.
1) Open http://www.annauniv.edu/affiliug/pt.html website.
2) You can see the list of time table for following programmes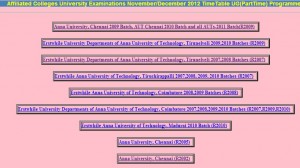 3) Open your required timetable link. Once pdf file will get downloaded.
4) You can take a print out of the timetable or also can note down in one paper.
For more Information to check Anna University Nov/Dec Parttime time table visit the following link,
http://www.annauniv.edu/affiliug/pt.html